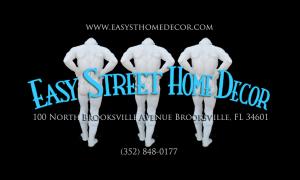 Easy Street Home Decor, of 100 N. Brooksville Ave. in Brooksville, FL, is partnering with the Spring Hill Artists, to feature 1 artist every month. For the month of June, Easy Street is featuring photographic art from Beverly Stapleton of Naked Tree Photography.

Beverly is a self taught photographic & digital artist. She has always filled her creative passion with photography. She has had a camera in her hands since she was a child, and she was fortunate enough to be able to travel and see many beautiful things.

She was born in Western New York, raised in Colorado, then she transplanted herself to South Florida in 1990. In the summer of 2001, she and her family moved to the Brooksville area, where they currently live. Many of her favorite photographs are of the local Hernando County and surrounding areas.

Beverly prints her own original original photography on an Epson Stylus Pro 7900. She also does her own matting, framing and stretching of her canvas....